Singles "Get Hype" and "Guard Your Heart" Set To Impact Radio
Power pop vocal group 1GN, formerly called 1 Girl Nation, is poised to take the world by storm with the release of its second full-length album Unite on April 15. Now a trio comprised of Carmen Hadley, Kayli Robinson, and Lauryn Taylor Bach, 1GN comes with a powerful and focused message reflecting the act's maturing sound and appeal to ever-widening audiences. "We have been through so much together," notes Lauryn. "We have shared great times and really dark times. But through it all we've come out stronger."
Carmen explains, "Our message is going to have more impact because we ourselves have been through the 'fire.' We understand more about what our fans are going through, and hopefully we can engage them with songs and ideas that really speak to them."
A major theme on the new album centers around the anthemic song "Guard Your Heart," based on the scripture found in Proverbs 4:23-27, which begins with the charge, "Above all else, guard your heart…" The song is a kind of slogan for the girls to their fans. "So much of our lives and interactions today are now through social media and online, which is awesome. But the dangers there are real," explains Lauryn. "The images hitting us in pop culture are often overly sexualized and filled with hate, bullying, violence and division. We just want to encourage each other to guard our hearts from these things, to overcome hate with love, and to live boldly for Christ, even while having fun."
While the album definitely treads into deep topics, it also contains a fresh, fun and infectious sound. In bringing the album's first radio single "Get Hype" to life, for instance, 1GN tapped into each member's unique musical skills. Partnering with producer duo Jordan Sapp and Dave Wyatt (TobyMac), the song is an undeniably hooky pop track written to get crowds on their feet and ready for 1GN's live show. The song definitely gets into your soul and makes you want to dance. The girls even partnered with nationally known choreographer Chase Benz to create the "Hyphy" dance, featured in the song's official music video.
"As Christians, we have more to hope for and more to celebrate than anyone can imagine," explains Kayli. "A song like 'Get Hype' is just a modern expression of the joy and excitement we should feel as members of the body of Christ."
The album also includes the artful and hooky "Cinema," in which the girls consider the thought-provoking contemplation, "What if my life was a cinema; what would the story tell?" as well as the unforgettable anti-bullying song "Haters," a Jesus-centric sort of "next step" to Taylor Swift's "Shake It Off," declaring not only that "haters gonna hate," but that we should "love them anyway."
After causing a stir with its 2013 self-titled debut album 1 Girl Nation, which produced such catchy pop hits as "While We're Young," the dancy EDM-infused "Vertical," and the heart-filled "Count Your Rainbows," 1GN became an instant sensation. The debut album reached No. 2 on Billboard's "Heatseeker Albums" chart, and No. 9 on its "Top Christian Albums" list. The response was so dramatic, the group earned a "New Artist of the Year" nomination in the 45th Annual Dove Awards.
Riding the momentum of their debut album, the girls spent the first year of their career creating an eye-catching, electrifying live show, partnering with the "Secret Keeper Girl" mother/daughter events and playing dozens of concerts as part of the "Secret Keeper Girl 'Crazy Hair Tour,'" as well as multiple Christian festivals and shows. Their stunning and honest cover of Colbie Caillat's hit "Try" lit up social media and solidified the girls' artistry and connection with their fans.
By Christmas the following year, the group treated fans to A Very 1 Girl Nation Christmas EP, partnering with Christian radio stations to create a multi-city "shopping mall tour," causing a frenzy among delighted devotees. The Christmas EP features the uber-catchy original song "Joy," which became an instant Christmas classic as one of the most played Christmas songs at Christian radio that year. Also included on the EP was 1GN's unique expression of the ubiquitous "Let It Go" from Disney's new classic film Frozen. The girls also demonstrated their strong individual vocal skills in a Pentatonix-like a cappella medley of Christmas classics.
With a musical style reminiscent of many mainstream superstar acts, 1GN has a powerful mission encouraging fans to overcome hate with love, to live boldly for Christ while having fun… and above all else, GUARD YOUR HEART!
Unite track listing:
1. Get Hype
2. The One
3. Cinema
4. Guard Your Heart
5. #NoFilter
6. Haters
7. Panic
8. Impossible
9. Smile
10. Unite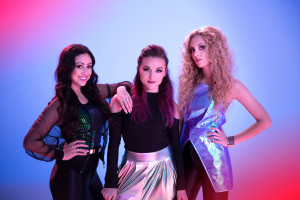 ABOUT 1GN: 1GN, comprised of Kayli Robinson, Carmen Hadley and Lauryn Taylor Bach, blends upbeat, relevant pop music, with lyrics that are focused on one united message of overcoming hate with love, and living boldly for Christ, even while having fun. Their self-titled debut album 1 Girl Nation was released in August 2013, which reached No. 2 on Billboard's Heatseeker Albums chart and No. 9 on Billboard's Top Christian Albums chart. 1GN has played on more than 80 "Secret Keeper Girl Tour" concert dates, co-headlined the "While We're Young" Tour with OBB and performed at Disney's Night of Joy. The group earned a "New Artist of the Year" nomination for the 45th Annual GMA Dove Awards. Their sophomore album, Unite, will release April 15, 2016.
###